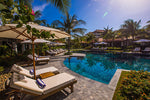 Your wedding is a special day and one you want to remember forever. Have you considered a destination wedding in a tropical resort? 
With this type of event, you're in for the most beautiful landscapes and magnificent venues for your wedding. What's more, there's so much for everyone to do when you pick the perfect spot.
Let's look at the best tropical resorts for your destination wedding. 
Petit St. Vincent in St. Vincent & the Grenadines
This is a special place for your wedding as you'll feel miles away from the modern world.
Petit St. Vincent is a private, secluded island resort in the southern Grenadines ringed by white sand beaches and turquoise and sapphire blue water.
The best part about Petit St. Vincent is you can rent the entire 115-acre island for your destination wedding. It's available year-round and can accommodate up to 56 guests. 
You'll find two restaurants and bars, an incredible wine cellar, a Balinese-managed hillside spa and wellness center, and seven breathtaking beaches. 
What's more, during your stay, you have 130 staff members to take care of you and your guests.
Elea Resort in Santorini, Greece
If you're considering an adult-only wedding, this is the resort for you.
Not only are you surrounded by thousands of years of history down the cobblestone streets, but you'll find upscale boutiques, art galleries, coffee shops and bars. 
The beaches are amazing with their volcanic sands. Your wedding backdrop on this island is truly one of the most beautiful places on earth. 
Wymara Resort & Villas in Turks & Caicos
Pure white beaches and bright turquoise water meet you at this delightful wedding destination. 
This resort sits on pristine Grace Bay Beach, an elegant spot in the Caribbean.
If food is your thing, you'll enjoy incredible food with their award-winning chef. His specialties include using local ingredients and international flavors. 
They are accustomed to hosting weddings in their outdoor private garden, their Penthouse, and even on the beach, so they are sure to provide you with the perfect wedding retreat. 
Boardwalk in Aruba
This boutique hotel was formerly a coco plantation and is a well-loved tropical oasis.
You'll find semi-stand alone and fully-stand alone casitas over the grounds, so you have privacy. 
The resort is right across the street from the beach, so you can quickly enjoy your own private strip. In addition, your guests will enjoy two pools and incredible food. Finally, visit Arikok National Park for added fun. 
Finest Playa Mujeres in Cancun, Mexico
This luxurious, all-inclusive resort is perfect for your wedding with many packages available. 
You'll find a resort geared toward weddings. They have everything you need and will help you plan a beachfront wedding or a wedding at a quaint castle in the countryside. 
With both adults and families in mind, there's something for everyone in this destination. Guests can enjoy hot tubs, sunset cruises, and massages at this resort. 
To Conclude
White sand beaches, brilliant blue water, incredible jungles, and resorts geared to help you, you're sure to have a great destination wedding with any of these tropical resorts.