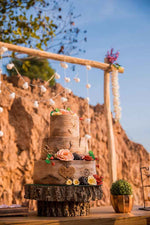 If you're getting ready to say "I do" on the edge of the ocean, you want a showstopper for your reception centerpiece.
 With the beautiful blues of the ocean, the mesmerizing oranges and pinks from the sun, the sandy beaches, and the crystal-clear sky, your beach cake design also deserves its spot in your nuptial celebration.
In this article, we look at top beach wedding cake ideas that work with the scenery and your exquisite color palette. 
Go Beachy
Your first instinct with your beach-themed wedding is to have a beach themed cake.
This might entail blue hues, a tropical look, nautical components, beach elements such as seashells, sand dollars, or even a couple of edible starfish.
This traditional, classic look might be just what you're looking for, but don't let that stop you. You can even take it a step further. 
Fit Your Theme
Use your wedding theme to inspire your wedding cake. The modern wedding cake is only limited by your imagination and that of your cake baker. 
You can take a note from your overall theme and color palette when designing your top beach wedding cake. Here are a few ideas:
Go the Bohemian route with a simple cake covered in white or off-white fondant. Then, have your cake baker sprinkle some bold greenery and a few large tropical flowers for an understated, classy Bohemian look.

You can also look towards a more outdoorsy look with your cake decorated to look like beach wood with a few flowers dropped around.

Take the clean look by creating a

classic white wedding cake

with tropical leaves and sugar fruit. Consider pineapple, coconut, mango, and more.

If you want to be a bit luxurious, have your cake baker create a cake decorated in sugar made to look like the waves of the ocean. This cake, decorated in hues of blue is a sure showstopper.

Create a semi-naked (roughly frosted) cake and let it drop in sugared berries,

sugar seashells

, or

hibiscus flowers

.

Another elegant idea is a blue and gold (think edible gold leaf) cake that looks like something out of a mermaid movie.

Choose a monochromatic wedding cake. This buttercream covered cake may be off white or white dripping in ruffles. You can leave it like this or add some island flowers falling down one side.

Another option is a wedding cake with graduated colors from the lightest of blue to the darkest of blue. Add some tiny

edible pearls

, and your cake mimics the ocean's mist.

Bright colors

are also a great way to go if they fit with your color scheme. Consider bright pink, orange, or turquoise cakes. Add some

sugar flowers

, and your

tropical wedding cake

will be one everyone talks about.
To Conclude
Sun, salt, sand, and the crashing waves make some of the most enjoyable and memorable weddings. 
Once you've picked this incredible destination, you want to be sure your reception showpiece shines. As the most important dessert you'll most likely ever serve, let your beach wedding cake be one your guests remember forever.
Take your cues from the theme and color scheme of your wedding. You can choose beachy-themed, traditional, pastel, textural, bright and colorful, classy, outdoorsy, silver and gold – let your creativity soar.