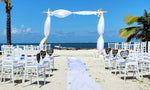 You want to have a beach wedding ceremony, and you're wondering about the best time of year. In fact, you want to know the best month for a beach wedding. 
There are many things at play when considering the ideal month. These include the various beach locations you're choosing. In addition, each destination has a high season, a rainy season, and its most popular months, along with specific weather in the spring, summer, fall, and winter depending on the location. You want to consider all these things when calculating the ideal month.
In this article, let's look at how to choose the best month and perfect wedding date for your beach wedding based on your chosen location, such as Florida, Hawaii, and the Caribbean. 
Florida Beach Weddings
When it comes to Florida, nearly every day is a sunny day, but there are better times for a beach wedding. 
For most people, aim for April, May, June, September, October, November, and even December through February if you don't mind a little cooler temperatures. 
You want to steer clear of July and August as those are the absolute hottest months with high temperatures in Florida, and those months are often the rainiest. 
If you're looking for deals, check out the months of October through December, as the tourist season has slowed down considerably. January and February are nice and often less expensive but do plan for cooler temperatures at your outdoor wedding. 
Hawaii Beach Weddings
We can safely say Hawaii is perfect for your destination wedding year-round. The temperatures are generally always around 70-80 degrees.
Do be aware that from November through February, you may see more rain, so make sure you have a backup plan. 
Caribbean Beach Weddings
January, February, and March are the most common months for beach weddings because the weather is at its best. Do be aware, though, that this is a high wedding season, so costs may be more. 
April through June is mid-season. The temperatures are still pleasant, but you may experience more rain. October, November, and December are considered mid-peak season, and they are also nice beach wedding months. While July, August, and September are popular wedding months, do note that it will be hot and humid. 
Final Thoughts
So, to sum it up, generally speaking, April, May, June, September, October, and November are the best months for a beach wedding. However, you want to make sure this is true for your chosen destination, as the best time of year varies by location. 
Remember to consider whether you want a wedding when there are cooler temperatures or if you like it hot. Also, consider if you want a wedding during the off-season when prices have cooled off as much as the weather. 
Always have a backup plan in case of rain or windy weather. As long as you do your research and consult with a local wedding planner, your beach wedding is sure to be beautiful, memorable, and just how you want it. 
When it comes to your destination beach wedding, the best month is what works best for you in terms of location, season, budget, and travel time.