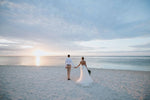 Have you been dreaming of a beach wedding your whole life? There's nothing quite like traveling to your destination beach wedding and finding yourself in paradise. Lots of sun, white sand beaches, the ocean breeze, and romantic sunsets make for a wedding full of amazing pictures and memories. 
To help you, here are five things to consider when planning your beach wedding.
#1: Have Your Ceremony in the Daylight
Many people want to have their beach wedding ceremony during the evening, but if you want great photos, it's better to have your outdoor wedding when the sun is up. 
Why? As the sun falls below the horizon, you won't see the crystal clear blue ocean in your photographs as they will all look black. You lose the sea. So, consider morning, late afternoon, or even a sunset ceremony before the sun actually sets. 
#2: Make a
Back-Up Plan
You can't control mother nature. The last thing you want is for the weather to derail your perfect beach ceremony. Always have another plan in place and an indoor venue on hold. 
This isn't as hard as it sounds. For example, if your reception is right after the wedding, consider booking it for an extra hour or two earlier, so it's available if the weather turns bad. 
Also, be sure and talk to your local wedding planner about the seasons in your chosen location. You definitely don't want to schedule your wedding during the rainy season. 
#3: Consider Your Attire
You want to be practical when it comes to your wedding dress and shoes and those of your wedding party. 
A beach wedding probably isn't the place for a big ball gown with an incredibly long train. Instead, a beach wedding lends itself to a simpler dress and beach sandals. Heels aren't the best idea if you are walking or standing in the sand. The last thing you want is to stick or sink into the sand. 
Find some beach sandals to protect your feet on the hot sand that are comfy and cute! 
#4: Get a Permit
You found the perfect location, so don't forget your beach permit. Put this task at the top of your to-do list. 
Many beaches require permits for people who want to hold weddings, so this is a vital task. Your perfect beach wedding location requires a little bit of paperwork to hold your ceremony on the beach. Make sure someone has a copy with them on the day of the wedding in case someone questions you. 
#5: Provide Some Shade
You want to provide some shade at your wedding location, so everyone doesn't overheat. Whether your beach is cool or super-hot, you and your guests will appreciate some overhead shade. In addition, this shade can provide a little protection from a short rain. 
Shade really helps older people as well as the really young ones. Drape a canopy over the seating area using bamboo poles. This can be elaborate or quite simple. Either way, it can be beautiful while serving a purpose. 
Final Thoughts on
Beach Wedding Ideas
The last thing you want to consider is your planning process. When you are getting married away from home, you want to have lists of everything you need to do and take to your beach wedding. 
Check and double check these lists and have someone look at them with you. This way, you can be sure not to forget anything so you can have the beach themed wedding of your dreams!