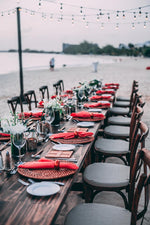 4 Tips for
Describing Your Beach Wedding Style
You know that you want a beach wedding, but just how do you relay that information to others, especially when there are many different styles? Well, it's time to get creative and use your imagination.  
You are an artist with a brush describing your perfect beach wedding style, and here are four tips to help you. 
#1: Describe the Perfect Beach
This is the spot where you want to have your wedding, so you should consider the ideal place for your destination wedding.
Do you want your wedding venue to be a tropical oasis with crystal clear see-through water? Would you like someplace hot and humid, or would you prefer something cooler? Do you want your beach wedding ceremony to be at a cool beach with mountains in the background?
There are many different types of beaches. Some have wide swaths of open beaches, while others are peppered with hills, rocks, and trees. 
#2: Describe the Wedding Feel
What type of wedding do you want?  
Are you considering a casual wedding, traditional wedding, or formal wedding, or do you want a themed wedding such as a nautical wedding? 
Your wedding day should be extra special, so it's important to get this piece right from the beginning.
It is possible to have any type of wedding you want right on the beach, even an elegant wedding. It can be a formal occasion, or it can be fun and playful. The sky's the limit, and the wedding theme is your choice! 
#3: Describe the Wedding Attire
Now that you have the beach locale and the feel of your wedding nailed, now it's time to think about the wedding attire.
This includes the bride, groom, groomsmen, and bridesmaids. It can also include the parents of both the groom and the bride, too, if you want everyone to have similar colors. 
What's important is that you choose proper beach wedding attire that works with your wedding theme and your color scheme. This is your dream day. Consider everything from the outfits to the shoes, jewelry, hairstyles, and flowers.
Choose bright colors, muted colors, or beachy colors – it's all up to you. This is your chance to let your personal style shine. 
#4: Describe the Food and Flowers
What you choose to serve and how you choose to decorate your wedding and reception area should go right along with your vision. 
For example, if your bridesmaids are wearing fuchsia, you want your flowers to match the dresses. And if your wedding has a tropical theme, your food, drinks, and cake should match, too. 
Final Thoughts
Your last tip for describing your beach wedding style is to make sure to find wedding vendors that really understand your ideas and plans. This isn't just any beach wedding. It's your beach wedding. Work with the vendors to make your ideas come to fruition.
Finally, you are now ready to send out your wedding invitations to your dream beach wedding. You've nailed the style, and the romance is ready to begin. 
Just imagine spending your wedding day on the beach with the warm sand between your toes, the crashing of the waves, and the feel of the sun on your face.