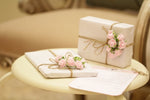 Your beach wedding is planned. You've picked the destination, your dress, your bridal party members, your maid of honor, your flowers, food, and music. Now it's time to handle the rest of the details. This means it's time to pick out some cute bridesmaid gift ideas. 
Let's look at beach wedding thank you gifts for bridesmaids. 
Beach Themed Necklaces
This is your time to pick out a thoughtful gift for your destination wedding. Most bridesmaids love necklaces, and when you pick out your gifts, you want to pick out something that matches the theme of your wedding. 
Consider a necklace with a pendant in the shape of a sand dollar or a starfish. You could also look for nautical wedding favors with a pendant in the shape of a boat anchor if you have a nautical theme. 
The next thing to consider if you're giving necklaces as gifts is whether or not you want to buy necklaces in gold or silver. This, of course, depends on your budget. Silver will be less expensive than gold. When choosing gold, you can choose between yellow, white, and rose gold. 
If you have a larger budget, consider adding a diamond on your necklace pendants.
Monogrammed Beach Bags
Another great choice for the perfect gift is a monogrammed beach bag. This is not only useful during the wedding but afterwards as well. 
What's more, the beach bag screams vacation, and your bridesmaids can toss their towels, drinks, sunscreen, and sandals in the bag and head to the beach when they have a break from their bridesmaid duties.
Monogram the beach bags with each bridesmaids' initials to make them extra special.
Sandals
Another bridal party gift idea is beach sandals.
Soleless sandals make the perfect gift and beach wedding party favor. No one wants to wear "real" shoes walking in the sand, so beach sandals make an ideal party favor. 
Bridal barefoot sandals come with flowers and beads, so you have a wide variety to choose from. 
Personalized Beach Tumblers
If you're looking for small bridesmaid gifts, you can't go wrong with personalized beach tumblers. 
Don't just grab for a plastic one, though. Look for a stainless bottle that will keep drinks cold longer. Get creative and decorate the bottles to match your wedding theme – think nautical themes, colorful flowers and flamingos, or seashell decorations. You can also add monograms on the bottles as well. 
Make them extra special by adding a festive drink packaged with the monogram bottles to take your gift up a notch. 
Personalized Beach Hat
Everyone needs a sun hat at the beach, so this is another one of our top picks for bridesmaid's gifts. 
The sun hat helps protect your bridesmaids from the sun and makes the perfect beach accessory. Consider monogramming the hats for each bridesmaid to make them extra special. Again, choose colors that match your beach wedding theme.
Final Thoughts
There's nothing better than a beach wedding. Everyone gets to celebrate your special day with you while also having their own vacation. 
Now that you have a list of some of the best bridesmaid's gifts, you can check these off your to-do list and move on to the next list item. 
Get creative, try and stick to your theme, and look for gifts that are meaningful and within your budget. Your bridesmaids will appreciate gifts that they can cherish and use for years to come.