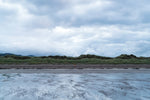 Congratulations, beach bride! It's time to start planning for your destination wedding. You are looking forward to a sunny day with no clouds in the sky. Yet sometimes mother nature has other ideas, and a chance of rain shows up on the weather forecast. 
This is when you need a backup plan or "plan b." 
In this article, we look at the no stress way to deal with beach wedding rain delays. 
Create a
Backup Plan
When you plan an outdoor wedding, and your wedding venue is the beach, it pays to have a backup plan in place weeks in advance. 
If a tropical storm creeps up on you, the best way to avoid stress is to have a solid plan in place.
This way, you can pivot your wedding and reception location, and do it without any stress. Consider having an alternate venue on hold in case you need to move your wedding inside. 
In addition, you want to consider beach access if the rain came the day before your wedding. If the rain makes access to the beach difficult, make sure you can direct people away from the affected area and to a new spot. 
Reserve a Tent
Another way to eliminate stress is to set up a tent for the actual event. For example, you can set up a tent for your reception complete with tables and a dancefloor. 
Then, if poor weather is in the forecast, you can move the ceremony under the tent instead of right out on the beach. If you go this route, you want to make sure to leave yourself some time to move your ceremony under the reception tent. 
One unique way to keep your wedding "outside" on a rainy day with a tent is to rent a clear-top tent. This way it feels like you're having an open-air wedding right in the rain. You and your guests can see the sky, and let's face it, raindrops can be ultra-romantic. 
By having a tent on hand, you'll eliminate stress and have peace of mind as you get ready for your wedding. 
Rent Heaters
It's a good idea to rent some space heaters or portable heating towers. This is especially important if your beach wedding is in a part of the world where it cools off significantly when it rains. 
You might also like heaters if your wedding reception is during the evening, and the temperature naturally drops at night. 
Buy Bridal Umbrellas
Be prepared and purchase umbrellas for the wedding party. 
You can buy themed umbrellas that match your theme, or perhaps one color for the bridesmaids and one color for the groomsmen. Your umbrella can be bridal white with a little lace if you'd like!
Have these umbrellas on hand if you have rain issues at your wedding. You will find the umbrellas are especially handy for getting from the car to your tent. Plus, they make a fun wedding gift for the wedding party. 
Final Thoughts
You can deal with your beach wedding rain delay with no stress by following the tips here. In addition, consider leaving some wiggle room in your wedding plans. When you have a little extra time built into your day, you can wait out a potential rain delay.
Finally, you can also look into event insurance. This is especially helpful for the beach weddings where the constant drizzle turns into a tropical storm with inches of rain. If you need to postpone the wedding, the insurance will help you avoid extra costs. 
Above all, be flexible, enjoy your beach wedding, and wear the perfect beach wedding barefoot sandals!