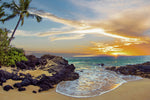 Why
Winter Beach Weddings
Are So Amazing
Congratulations! You're engaged, and you're most likely planning your wedding. You're busy considering dates, locations, and themes. 
If so, this article is full of tips for your beach dream wedding. In fact, let's look at why winter beach weddings are so amazing. 
Winter is Romantic
As you make your wedding plans, you are definitely considering the time of year. While most people lean towards spring and summer for their wedding dates, there is something especially romantic about the winter wedding. 
Wintertime lends a certain romantic aura to your beach wedding, especially if it's the holiday season. 
Consider how the holidays can affect your flowers, your décor, your cake, and even your dress. If it's around Christmas, you can decorate with reds and greens or gold and silver. If it's around New Year's, you can choose those colors or even go with shades of blue to play off a wintertime theme. 
Your attire can also be festive and romantic depending which winter month your wedding falls in and which beach locale you choose. It may be a balmy 90 degrees, or it could be a brisk 60 degrees. Whichever beach locale you choose, you'll want to watch out for mother nature. Warm weather may mean a sleeveless dress, while cooler weather may mean a light jacket. Your attire and that of your wedding party should reflect the winter season, yet be appropriate for the temperature.
In addition, since you're getting married during the winter, you can add fire pits, candles, dimmed lights, and even hot cocoa. The ambiance of a winter wedding can be really romantic with some of these special touches. 
The Wedding is Cheaper
Another reason winter beach weddings are so amazing is because they are often less expensive than their spring or summer counterparts. Why? It's not one of the peak seasons. 
Hotels, condos, airfare, and car rentals are generally more expensive during the spring and summer. When you look at a winter wedding and beach ceremony, you're out of the peak season and can enjoy off-season pricing. 
In addition, you'll also find it easier to reserve your favorite wedding vendors because they aren't as busy in the winter. Ask for off-season rates, and you'll often find you pay less during the winter. 
Your wedding guests will thank you, and you may find more people are able to attend your winter beach wedding than they would a summer wedding because it's much less expensive for them. 
You Can Have a Wedding at Sunset
Many brides and grooms find a winter beach wedding is ideal especially if they want to get married at sunset. 
In the summer, the sun sets around 8 pm, so that makes it hard to have a sunset wedding. Yet, if you get married on the beach in the winter, the sun sets much earlier around 6 pm. 
Schedule your ceremony between 5 pm and 6 pm, and you have your own beautiful, natural backdrop: a sunset winter wedding at the ocean. 
The Beach is Less Crowded
Since it's the middle of winter, you'll find the beach is much less crowded. This means you might be more likely to have a very private beachfront wedding.
This can alleviate a lot of stress when planning your wedding. During the winter, you won't have to worry nearly as much about people interrupting you. 
Final Thoughts
There are so many reasons why winter beach weddings are so amazing. 
They are beautiful and romantic, and depending what month you choose, each one has an easy theme to go along with it: the holidays, New Year's, Valentine's Day, winter themes, and more.
Get creative and step outside the norm of the spring and summer beach wedding. Schedule a winter wedding, and your wedding day is sure to be absolutely perfect.