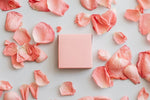 Your wedding day is all about you and your partner, obviously. But making sure that your guests enjoy the day as well can be the cherry on top of your beautiful celebration. One way to make sure that your guests also have a night to remember is to send them off with party favors that are worth keeping and cherishing forever.
If you are planning a beach wedding, here is our list of some great wedding favors to compliment your setting.
Beach Wedding Favor #1: Soleless Sandals
What's better than being barefoot on the beach? Being barefoot with a little flair to adorn your feet.
Offer a place for the ladies to drop their shoes with a basket of soleless sandals for them to wear during the ceremony or reception in the sand. You could choose a variety of colors, styles, and fun beach themes (like starfish or seashells) so that each lady can pick a pair that suits them best.
Your guests are sure to appreciate this unique beach wedding favor and keep them as a cherished keepsake from your beautiful day.
Beach Wedding Favor #2: Mini-Sunscreens with Personalized Labels
If you are a practical type of bride, then this fun idea is for you! Provide your guests with a useful, travel sized bottle of sunscreen to use while they are at the beach for your beautiful wedding.
If you plan ahead, you can consider adding a personalized label with your initials, a sentimental quote, or a pun about burning love. Your guests will appreciate the gesture and you just might save some of them from flying home with an itchy sunburn.
Beach Wedding Favor #3: Seashells
Not every day is a day at the beach, but little reminders that the beach is out there are always appreciated. If you have time leading up to your wedding, you might consider personally picking up handfuls of small seashells on the beach to offer as party favors.
Because seashells come in such a wide variety of shapes and sizes, you are sure to find many unique little treasures for your guests to choose from. They might carry these shells in their pockets or place them on a special shelf at home, but they will certainly look upon this memento fondly whenever they see it.
Beach Wedding Favor #4: Beach Toys
For some wedding favors that offer extra fun, you can offer your guests a variety of beach toys to enjoy while they are on location for your wedding. 
Fill a basket with the inflatable beach balls, sand shovels and pails, waterproof uno cards, or any other beach favors that you think would be great for the beach. Pick up a variety of items in bulk from a dollar store or online and let your guests pick out what they really want.
Beach Wedding Favor #5: Sunglasses
Your future with your partner is looking so bright, you had better offer your guests some shades just in case they left theirs at home.
You can order personalized sunglasses in your wedding colors for a subtle nod to the event or add your initials, the date, or a clever quote about love to the arms of the glasses. It will make for a great group photo, and many of your guests will appreciate an extra pair of sunglasses in case theirs are washed away while swimming in the waves.
Beach Wedding Favor #6: Bottles of Sand
For a creative keepsake, you can offer a variety of containers, bottles, or glass jars with a pile of sand from your beach location collected in the bottom. Your guests can continue to collect sand or soil from their own vacations and add to the jar until it is full.
You may add a label to the bottom of the container to designate the event, or leave some permanent markers at the table for your guests to label them in a way that speaks to them.
Beach Wedding Favor #7: Custom Koozies
If your bartenders will be handing out bottles or cans at your reception, your guest will appreciate it if their drinks come along with a custom koozie to keep their drink cool while they enjoy your wedding on a warm beach.
Add a monogram or a customization of your choice to the koozie to commemorate your big day and give your friends and family something they will be happy to pull out of their cooler for years to come.
Beach Wedding Favor #8: Island Themed Bottle Openers
For a keychain keepsake that your guests will love to take with them, you might consider a bottle opener shaped like a flip flop, palm tree, speed boat, anchor, or any other beachy icon that you like.
Plain and practical, a bottle opener is a handy item to hold on to, particularly when it comes with fond memories of your big day!
Beach Wedding Favor #9: Salt Water Taffy
The benefit of this favor is that it can be enjoyed at the reception or long after the event has wrapped up and your guests have headed back home to potentially less tropical climates.
Offer a large bowl of salt water taffy to be eaten on the spot or shoveled into to-go bags for guests to fill up for later. You can go with a simple brown bag with a custom stamp, or make the to-go container as cute as you would like.
Beach Wedding Favor #10: Live Flowers 
Sometimes, it's best to appreciate a moment while it lasts. If you are worried about burdening your guests with a favor that they will not want or need after the day is done, why not embrace the fleeting nature of special days like these?
Consider offering hair ornaments, pins, and boutonnieres made with real, live tropical flowers for your guests to wear on your big day. Adding a simple flower to an outfit will make any girl feel special, and the aroma and energy of so many live flowers will enhance the entire day for everyone. 
Although they will be taken off and left behind after your big day, the memories will linger forever.