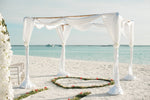 If you are planning a beach wedding, then many of your wedding planning choices will be centered around that unique venue. When it comes to picking out the perfect beach wedding dress, make sure to take into consideration the following tips for your sandy and salty big day.
Choose A Dress to Accompany Sensible Footwear — or Not.
If a wedding dress demands to be worn with fancy high heels, then chances are that it is not the perfect beach wedding dress. Although you might strap on a pair of snazzy shoes later on at the reception, if you are walking down an aisle made of sand, then a dress that can be paired with sandals or flats is ideal.
Alternatively, perhaps the most sensible thing to do will be to forgo footwear altogether! If getting married barefoot at the beach has been your plan all along, a relaxed or boho style wedding dress will be perfect. For a little flair, you could always wear some foot jewelry or a pair of soleless sandals to adorn your bare feet. 
Dress Length is Key
Especially if you are choosing to go with some boho-chic, soleless footwear for your walk down the sandy aisle, then you will most certainly want to show it off! Ditch the baggage that comes with a long train and opt for a contemporary, short dress to make walking through the sand a breeze. 
Alternatively, you might consider a high-low dress to get the best of both worlds, showing off your toes while the dress flows behind.
To Veil or Not to Veil?
...Did someone mention a breeze? When it comes to choosing to wear a veil that will perfectly compliment your wedding dress, you will need to be wary of those strong ocean breezes that can come with beach weddings. 
Although it can make for some magnificent pictures to have your veil blowing in the wind—in the moment, it might become an unwieldy nuisance during your ceremony. If you choose to wear one, make sure that it will remain practical (and in place) if the wind picks up, or consider saving it to bring out just for picture time.
Consider the Climate 
If you are getting married on the beach, then it is probably going to be rather warm at your ceremony and reception. Because this is probably going to be one of the longest days and nights of your life, you will want to make sure that you are as comfortable as possible.
Having your arms relatively free and uninhibited will provide you with the best airflow and freedom for movement in a humid climate: consider strapless, halter, or simple straps for the perfect beach wedding dress.
Color Considerations
Although there is no hard and fast rule when it comes to picking the perfect shade of white for a beach wedding, there are a few considerations that you should make before saying yes to that dress.
At many beach locations, cream or champagne colored dresses will help to create a beautiful color palette for your wedding photos at most beach locations, complimenting the off white color of the sand. 
However, if you will have the opportunity for a backdrop of stunning teal waters, you might consider a stark white to amp up the color contrast.