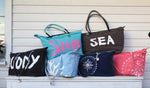 If you are planning a beach getaway soon or if you would just like to be prepared should the opportunity arise on short notice, then you have come to the right blog post. This is our must have list for things to keep in your beach bag for that long awaited or spontaneous trip.
Part of a beach getaway is the mental clarity that comes with leaving your everyday life behind. In order to capitalize on your moment, we encourage you to pack the following essentials in your grab bag for the beach.
Beach Bag Essential #1 - A Really Big Hat
Offering ample shade for protection from the sun, a really big hat is terribly practical to have with you on the beach. Whether you wear it to remain mysterious and guarded as you scan the beach for island boys or utilize it to shield the sun during a hot afternoon tanning session, on your next trip to the beach, you will be glad you packed this essential item.
Besides, when else do you have the excuse to wear such an extra hat in your day to day life? 
Beach Bag Essential #2 - That Really Special Towel
Your everyday bath towel is basically a sand magnet anyway, so investing in a dedicated beach towel is worth it on a practical level too.
There are a lot of options out there for beach towels that are both practical and versatile. Picking out a nice, big round mandala towel to spread out on the beach or one that doubles as a wrap is what we would recommend, but you do you, Babe!
Beach Bag Essential #3 - A Sunkissed Goddess Style Coverup
A day at the beach is about feeling comfortable and confident in your body and attire. Whatever your swimsuit preference is, a concealing (or revealing) coverup is great for walking along the water's edge or up to the bar for a refreshing drink.
Whether it's a light cotton dress, a wrap, or any other style of coverup, the important thing is that you feel like a goddess gracing the beach with your presence. A great coverup can also offer the perfect amount of protection for your shoulders wherever sunscreen may fall short.
Beach Bag Essential #4 - Soleless Sandals 
Ditch the five-dollar flip flops and embrace the barefoot beach life while keeping a pop of color in the mix with handmade soleless sandals. 
You'll enjoy being able to feel the sand beneath your toes while still looking fashionable in this minimalist footwear. To compliment your sunkissed goddess coverup, we recommend adorning your feet with some flowers, perhaps?
Beach Bag Essential #5 - Sunglasses That Are A Little Extra
We're talking big, bold frames and colors, not the standard black sunglasses that you throw on every day on your drive to work.
Sliding on some rose colored glasses that make you feel like a real movie star will take your beach day to the next level. You might not be famous, but you could always be an influencer in the wild.