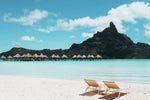 Are you fed up with staying home and ready to hit the beach this summer? If the past year has taught us anything, it is that we need to make the most of the time that we have when we have it.
If you need some ideas for where to go, here's our list of top tropical beaches to hit up as you seize the day every day in 2021.
Playa Hermosa, Costa Rica
Really, the name says it all. Translating to "Beautiful Beach," this Costa Rican town lives up to its namesake in this small, beautiful, and enchanting country. With Pura Vida vibes all around, there is no doubt that you will fall in love with Costa Rica on this beach.
In addition to just chilling on the beach with a drink in your hand, you might enjoy swimming, snorkeling or scuba, sport fishing, and sailing while you're there. And—of course—there is excellent surfing nearby.  
Santa Marta, Columbia
If you're not into tourist traps, check out this little known beach town while you explore the mountains and beaches of colorful Columbia.
As the first Spanish settlement in Columbia, this town has a rich history and beautiful buildings to explore as well as easy access to Tayrona National Natural Park for those days that you're not in a swimsuit on the beach. 
Negril, Jamaica
As they would say in Patios, "Everything will be Irie" on a trip to Jamaica this summer. The reggae will be bumping and chill vibes are a given on these beautiful carribean beaches.
If obtaining a passport for the summer is a hurdle for you, you can often visit Jamaican beaches via cruise ship without a US Passport, making it accessible for first time world travelers from the states.
Providenciales, Turks & Caicos 
Known as Provo for short, this island in the Turks and Caicos archipelago is known for soft sandy beaches and its "Rum Punch" drinks at bars across the province. 
Aside from sipping and swimming on the beach, there are also snorkel reefs to explore or rum distillery tours to take while you're relaxing on this beautiful tropical island.
Siesta Key, Florida
If international travel has one too many hurdles this year, you can still get your tropical beach fix without leaving the states.
Known for having the whitest sand beaches made up of pulverized quartz instead of coral and shells (as is more common for many beaches around the world). Complemented by turquoise waters, these picturesque beaches are a soft dream to walk on and a true sight to see.
We highly recommend enjoying the gentle lul of Gulf waves while you take a siesta on this beautiful key.
Miami Beach, Florida
If a relaxing siesta isn't quite your style, you could always head to the opposite coast of Florida where the nightlife is hopping and the waves are rolling. 
Unlike the shallow and mellow gulf waters, along the east coast of Florida you will have access to true offshore fishing, amazing snorkeling and scuba trips, and surfable waves for an exciting and active tropical beach adventure.