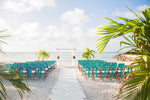 Sand between your toes, the wind in your hair, and sun kissing the faces of your loved ones. This is all part of your beach wedding. 
You want everything to be perfect from the floral arrangements to the wedding cake and the food. But you aren't familiar with the local area and vendors, so how do you plan your wedding?
When having a destination wedding, you're walking into the unknown. It's unfamiliar territory, and some expert guidance is a great way to ensure you have the wedding of your dreams. 
In this article, we look at the benefits of hiring a professional wedding planner for your beach wedding.
A Wedding Planner Relieves Your Stress
When you're trying to plan a destination wedding far away from your hometown, the planning process can get complicated and stressful. Hiring a destination wedding planner can alleviate your stress and leave time for you to simply enjoy the process. 
The last thing you want when planning your beach wedding is to feel hectic and out of touch because the venue is so far away. 
Your experienced wedding planner can handle everything including getting permits for the wedding, setting you up with a caterer, photographer, and a florist, and arranging for tables, chairs, etc. With your input and approval, the wedding planner can move forward and set everything up for you. 
A Wedding Planner Books the Best People
When it comes to choosing local wedding vendors for your dream beach wedding, wedding planners know just the right people to use. 
Because your wedding planner is local, they will also have an easier time booking them and making arrangements with their own network of professionals.  The expert help of a wedding planner can provide you with just what you need. 
A Wedding Planner Saves You Time
If you had to make all the arrangements on your own, you could spend numerous hours doing all the planning.
Yet, if you have a wedding planner, you can spend time picking out your wedding dress and enjoying the preparations. 
You can enjoy your beach wedding even more because you have extra time to appreciate each aspect.
A Wedding Planner Manages the Budget
Once you hire an experienced wedding planner for your beach wedding, you can provide this person with a budget.
Your wedding planner will keep track of all your expenses so you can see them at any time. If something arises where you need to spend more money on something, your wedding planner can help show you where to reduce the wedding budget, so you stay on track. 
In addition, your beach wedding planner can also help save you money. Very often, local wedding planners often get the best deals with their favorite vendors resulting in cost savings for you. 
Final Thoughts
The benefits of hiring a wedding planner for your beach wedding are many. 
All you need to do is pick the right wedding planner (interview a few), let them know what you envision for your wedding, and let them run with it. 
They will then run everything by you. You can count on your beach wedding being one everyone will remember. 
With more time on your hands and less stress, you'll shine on your wedding day.