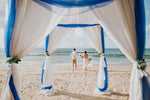 You are dreaming of a secluded beach wedding in a gorgeous tropical location attended by your family and friends.
What's more, you've imagined the crystal blue water, white sandy beaches, and a lovely sunset. 
What you probably aren't envisioning is a bunch of tourists or onlookers gawking at your well-planned ceremony. So, how do you keep them away? 
Let's look at five tips for ensuring privacy during your beach wedding.
#1: Rent a Private Home
Many of the most beautiful beaches are public, and they're especially busy during the weekends when most couples schedule their weddings. 
One way to make sure you have a private, secluded wedding is to rent an oceanfront property with its own private beach.
This way you can bring in tents, canopies, chairs, aisle runners, flowers, tables, and more. 
You'll enjoy a private section of your beach for the ceremony, reception, and pictures.
#2: Hire a Wedding Planner
Another good idea to ensure privacy at your beach wedding is to hire a local wedding planner/coordinator. 
This person will know the ins and outs of the area and be better able to help you keep your ceremony private especially if you're on a public beach. 
The wedding planner can also run interference and create privacy around your wedding by letting onlookers know they need to leave the area. 
#3: Post Signs Around Your Wedding Area
You can also ensure privacy during your beach wedding with a few strategically placed signs. 
Signage provides a visual cue to beach goers that your private wedding is going to take place. 
Consider setting these signs out as soon as you get the wedding area ready.
It's important that your signs are large enough to be easily read from a distance. You want to set these out beginning at the parking lot. Give beach goers plenty of notice that it would be kind of them to go another direction. 
As an added bonus, your signs will help your wedding guests find the right area on the beach. 
Finally, do check with the city to make sure it's okay to place the signs on the beach. 
#4: Schedule Security
You can help ensure privacy during your beach wedding by hiring a security team or enlisting the help of volunteers. 
You can station these people around the beach venue area before the ceremony. They can then gently ask people passing by to keep on moving or stay a little further away.
When it comes to your wedding reception, it's also a good idea to have security on hand to keep wedding crashers away. Your family and friends can also be on the lookout as they will know who is supposed to be there, and who isn't. 
Final Thoughts
There's nothing quite as romantic as a beach wedding and wedding reception.
You can ensure privacy during your beach wedding with the tips listed here.
One more thing you need to remember is that whether your wedding is on a public or a private beach, you may need a permit from the city or the county. 
Make sure you know what the local ordinances are, so your wedding doesn't get shut down. You can also check with the convention and visitor's bureau for information. Your wedding planner can also help with this. 
Don't forget to bring your Soleless Sandals along! You can enhance your beachfront wedding with our beachy chic barefoot sandals fashion accessories!