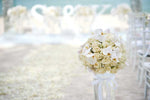 As you dream about your beach wedding and begin to make plans, you want to consider your wedding colors.
To help you, let's look at the top five beach wedding color schemes.
When it comes to your wedding day on the beach, your wedding color palette is unlimited. While you're surrounded by the colors of nature, you can bring in other colors to complement your wedding theme.
#1: Blush and Cream
When mixed with cream, or even light shades of turquoise, blush (light pink) really pops.
Consider blush bouquets set against cream colored bridesmaid dresses. Soft, feminine, light pinks are classy and gorgeous. When it comes to your groomsmen, consider light khaki suits. 
As you work with this color scheme, you'll find it's soothing and works seamlessly with your beach wedding venue. 
#2: Luminous Blue and Light Brown
Mix a soft, pale, luminous blue with light brown, and you'll find these classic neutrals fit in with the natural backdrop outdoors. 
These two colors are elegant and provide you with many options. Consider a cream-colored wedding gown and accent with blue bridesmaid dresses and light brown suits for the groomsmen. 
Your flowers can be a mix of light blue and brown as well as cream or white. 
#3: Tropical Brights
If your dream wedding is colorful with an extra wow factor, consider tropical brights. The colors of magenta pink, other bright pinks, bold blue or turquoise, green, purple, orange, and brilliant yellow will set the tone for a fun, festive affair. 
You'll love your destination wedding in the perfect tropical spot by bringing in as many bright oranges, pinks, and green as you can. These colors will meld right in with the bright blue of the ocean. 
#4: Cantaloupe and Green
Not only is cantaloupe our favorite color of orange, but it also goes naturally with the outdoors. Imagine your bridesmaid dresses in this unexpected color. 
You'll find that cantaloupe as well as green go perfectly against the backdrops of the brilliant blue of the ocean as well as the sun-kissed tan of the beach. 
What's more, if you're getting married next to green leafy décor such as palm trees, or you're having a tropical wedding, cantaloupe mixes perfectly well. 
For your flowers, mix cantaloupe with greens and add some white for an accent. 
#5: Teal and White
There's nothing quite like a teal and white wedding color scheme. It capitalizes on the deep blue of the ocean while providing you a clean, crisp color palette. 
Consider beautiful teal bridesmaid dresses with white bouquets for everyone.
Your tablecloths can be both teal and white. Your flowers can also be in these same colors. Accent your white wedding cake with blue as well. Consider adding some brilliant green as a secondary color in this palette.
Your beachside wedding in teal and white works perfectly in the outdoor setting and creates a lovely scene. 
Final Thoughts
Your seaside ceremony is only limited by your imagination. Pick your favorite colors to create your wedding color scheme.
Don't forget to consider your theme as well when choosing colors. 
Think about the ocean, the sand, and the greenery in the surrounding area. Pick colors you love and that complement the environment.
Finally, create a swatch book so you can look at all your colors in one place. Lay out colors for flowers, dresses, suits, table décor, your cake, and more. 
Make sure your beach wedding colors work together for your dream wedding, and above all, make sure you love the color scheme!