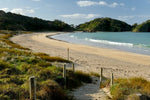 New Zealand beaches are awe-inspiring, beautiful, and like no others. The beaches in this glorious country lend themselves to some of the most gorgeous weddings. If you're looking for the perfect spot for your beach wedding, New Zealand has what you're looking for. 
Here are some of the most beautiful New Zealand beaches for your wedding.
Anchor Bay, Tāwharanui Regional Park
Anchor Bay is close to Auckland, making flights easy. 
Choose from cliffs above the ocean or take in the beach and sand dunes for your wedding photo backgrounds. You'll find the white sand beaches are surrounded by parkland including wildlife and even rockpools. Consider a more rugged wedding and camp out under the stars or in your own private tent. 
Cathedral Cove, The Coromandel
Get married on the beach or even in a cave. You'll love the brilliant blue waters. Just a few hours from Auckland, a wedding at Cathedral Cove is picturesque and amazing. 
Cathedral Cove is a tunnel that's been carved out by the sea. This tunnel leads to a gorgeous beach. It's a bit to get to the beach – you have to walk, boat, or kayak. 
You'll find, though, the photos under the naturally formed archway will bring you great memories for years to come. 
Maitai Bay, Northland
A terrific venue for your beach wedding, you'll love the soft white sand and crystal-clear water.
You and your guests will enjoy not only your beach venue but a longer stay where you can swim, snorkel, relax, and kayak in the ocean. 
You'll find plenty of options for lodging when planning your dream wedding in Maitai Bay.
New Chums Beach, Coromandel Peninsula
Another location on the Coromandel, if you want a very private, secluded wedding for a few guests, this may be worth looking at. 
What can you expect? You'll find the bluest of water and the whitest beaches. You will have to hike for about an hour through a nikau palm forest. Then, you need to get through a shallow lagoon and over some boulders to arrive at the beach. 
Because it's really off the beaten path, a large wedding isn't in the cards, but if you want a small, intimate ceremony for a few tough outdoorsy types, this is your spot. 
Ninety Mile Beach, Cape Reinga, North Island 
A never-ending paradise, Ninety Mile Beach actually only covers 55 miles. As stories go, apparently European settlers marked the length of the beach by how far their horses could travel. 
It turns out their horses could only travel 30 miles a day. The trip along the beach took them three days, so they decided that was 90 miles. 
This beautiful locale has sand dunes that look like the desert, but the beach provides some of the best over-the-ocean sunsets. A surfers paradise and scuba lover's dream, your wedding guests will love their vacation on Ninety Mile beach. 
Tauranga in the Bay of Plenty
This beachside location is on the east coast of the North Island. A true surf town, you'll have your choice of New Zealand beach wedding venues on the water. You'll love this idyllic location with sand dunes and offshore islands making the perfect backdrop for your wedding.
 A quiet area, your intimate wedding on the beach is easy to plan. The city is full of caterers, florists, photographers, and more. 
Final Thoughts
In New Zealand, beaches are known for their glorious beauty, crystal blue waters, powder sand beaches, rugged shorelines, and picture-perfect landscape. 
You can't miss with a New Zealand beach wedding.