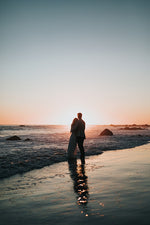 There's nothing quite like a beach wedding. Add the golden, sun kissed light of sunset, and you have the stuff that dreams are made of. Just imagine the stunning backdrop of the ocean complemented by the dreamy, multi-colored glowing hues of sunset. 
Not only does a beach wedding at sunset add extra romance to your special day, but you'll also have unique pictures for a lifetime. The magic hour loved by photographers the world over must be timed just right to catch the glow of sunset.
If you want to say, "I do," at dusk here are four tips for planning a sunset beach wedding. 
#1: Timing is Everything
When you're planning your wedding, you want to do some research on the exact time of sunset in your chosen location. 
You can use the NOAA Earth System Research Laboratory's online solar calculator to find the sunset time for anywhere on earth. You should have a good idea for timing of your wedding, photographs, and reception by using this calculator. 
Make sure to choose a photographer who is comfortable shooting beach weddings and is well-versed on the right time for the day you choose.
Your local event planner should also know about the best time to schedule your sunset wedding or your sunset wedding photos. For example, if you want to take your photos at sunset, you want to schedule your wedding just prior. Or, if you want your reception during sunset, you can plan your wedding and photographs earlier.
#2: Colors are Complementary
Another thing to consider for your sunset beach wedding is matching your wedding party clothing and your flowers to the natural environment. 
While most anything goes with a beach wedding from neutrals to bright colors, if you're using the sunset as a backdrop, you want to work around those colors. For example, if the sunset on your chosen beach is a salmon pink, you might want to blend in with the sunset in corals, greens, or even neutral tans. 
#3: Location is Vital
Work with your wedding planner to make sure you're facing the right way for your sunset beach wedding. 
If you want to watch the sunset as you get married, you want to make sure that you and your guests are facing the sunset. 
Likewise, you want to make sure there isn't anything blocking your view. This might be a hilly sand dune, a large yacht on the ocean, trees, or even mountains.
Do also consider how it will feel for the wedding party and your guests to view the sunset. You don't want anyone's view of the wedding to be blocked by too strong a glare or light from the sun. 
#4: Lighting is Key
Don't forget the safety of your guests and the ambiance after the sun sets on your sunset beach wedding.
First, as the sun sets pretty quickly, it can get hard for some people to see. Consider having your ushers placed in key positions to help your guests get from the wedding to your reception area on the beach. 
You can also place some lanterns in the sand and assign people to light them as it gets dark. In addition, strings of light bulbs and lanterns hanging on posts can add some extra ambiance to your romantic sunset beach wedding. 
You can also have candles for some added romance. If you're having a tent for your beach reception, think about adding some romantic chandeliers or candelabras. 
Final Thoughts
You can have the sunset beach wedding of your dreams with a little research and planning. 
And don't forget the beach wedding sandals. You and your wedding party will appreciate how easy and comfortable they are to wear during your sunset beach wedding.