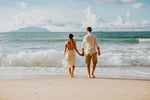 A beach wedding is a vibe: it's the sun and the sand and the energy of the ocean blessing your big day. It's no surprise that that unique vibe comes with its own list of ideal accessories that make that particular vibe permeate the entire day.
Here are the accessories that you will need to make your beachy big day perfect in every way:
1. Better than Barefoot: Soleless Sandals
Instead of high heels, you will want to feel the sand between your toes as you say I do to the love of your life on your big day, but that doesn't mean that you shouldn't have some accessories to adorn your feet for the ceremony and celebration
Soleless sandals are the perfect accessory to dress up your feet without losing your connection with the earth as you walk down the aisle. Choose pure white, flowers, beaded, or a splash of color to compliment your dress and the vibe of the beach.
2. A Bouquet Full of Flowers... and Seashells
Whether you go with subtle white or bright and colorful flowers for your bouquet, tying them together with ribbon and seashells is the energy that you want to carry with you down the aisle. 
A symbol of good fortune, fertility, and new beginnings, sea shells have been used for sacred ceremonies for thousands of years. Incorporating them into your accessories for your wedding on the beach embraces the energy of this special environment and deepens your connection to it. 
If you have the opportunity to collect the shells yourself before the ceremony, even better!
3. Ditch the Veil, Wear a Crown Like the Princess You Are
When it comes to outdoor venues in a notoriously breezy location, you are better off leaving the veil for more traditional brides. The chances of it blowing in your face or up at strange angles for pictures is just not the vibe that you want for your chill, picturesque wedding on the beach.
Instead, embrace your inner Ariel with a tiara, crown, or beaded headband. This will give you the opportunity to accessorize your hair without the hassle of a full on veil trailing off of it. 
Whether you intend to wear your hair up or down, these practical hair accessories will help you to manage your hair despite any wind that may kiss your cheeks on the beach for your big day.
4. Embrace the Tiny Details 
Beach wedding vibes aren't big and flashy, so you don't need large, chunky jewelry making a loud statement at the end of the aisle. Instead, focus on small, delicate jewelry to add little touches of bling to your look.
For the neckline, you might consider opting for a classy string of pearls or even a single pearl on a slim chain. 
Other small pieces of jewelry you might consider include small tennis bracelets, tiny toe rings, or stud earrings. You could wear additional rings on your other fingers, as long as they are small and subtle, so as not to upstage the brand new wedding band that you are about to slip on for the very first time.