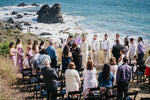 The wedding invitation arrives in the mail, and you find out you're invited to a beach wedding! This is the perfect opportunity to support your friends and family and have a vacation in a beautiful spot. 
But what do you wear when you're invited to a beach wedding? Here are three tips for what to wear. 
#1: For the Formal
Beach Wedding
If the wedding is a formal event, it most likely doesn't mean you need to wear an evening gown or tuxedo. It's always a good idea to ask, though. 
For formal beach wedding attire, a suit like a linen suit for men with a tie or bow tie is a good bet. Skip the dark colors since it's an outdoor wedding. 
For women, consider a nice, formal dress or fancy pantsuit with more formal accessories and jewelry.
#2: For the Cocktail
Beach Wedding
When the beach ceremony calls for cocktail attire, this is one step down from formal wear.
Look at lightweight fabrics in a dressier style. For example, men don't have to wear a jacket, but they should wear dressy pants and a long-sleeve shirt. Ties are optional. 
For women, consider a semi-formal dress or pantsuit. You can also dress it up with accessories.
When it comes to color palette, keep your colors light and airy. A beach wedding also lends itself to bright tropical colors, or more muted beach-like colors. 
#3: For the Casual
Beach Wedding
The casual beach wedding lends itself to breezy fabrics. Think of what you might wear to a nice dinner out. 
For men, short-sleeved shirts are perfectly acceptable with khaki pants. Shorts are generally off the table, but you can always ask if it's a super casual wedding. 
Women can bring out a sundress, maxi dress, or even a nice top and skirt or pants works.
More Attire Suggestions
It's worth noting that dark colors, while ok at indoor weddings, usually aren't found at the beach wedding. 
A little black dress and heels aren't the best for an outdoor, beach wedding. Think about lightweight and breathable fabrics, lighter colors, pastels, brights, and even fun prints.
Steer away from jeans and T-shirts. 
It's also fun to have a nice pair of beach sandals so you don't ruin your regular shoes! Don't forget a beach bag made of natural materials that works with your outfit. 
Final Thoughts on
Guest Attire Ideas
Wedding attire varies depending on each wedding. It's always important to pick the right beach wedding attire. 
While generally people think of beach wedding attire as more comfortable and casual clothing, it really depends on the wedding. 
You want to find out how formal the event is and then plan accordingly. For example, some beach weddings are very casual and a wedding beach dress for women and khaki pants and a polo may be just right.
Other beach weddings may have more formal reception areas, and a step up to cocktail attire is required. 
Always look at your wedding invitation for a clue on what to wear. You may find your bride and groom have included it. Or you may find they include that information on their wedding website. 
Finally, don't forget your beach sandals! We've got just what you need for maximum comfort and style.