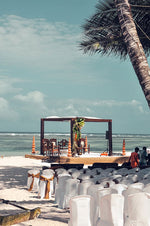 Planning a wedding is a huge undertaking when it's close to home. Add in destination wedding planning, and there's an extra layer of work involved. It's all worth it though, as your dream wedding is just months away. 
Let's look at five tips to ensure you have a stress-free destination wedding filled with beautiful scenery, friends and family, and a day that works just as you planned. 
#1: Hire a Wedding Planner
Unless you have intimate knowledge of your wedding destination, you want to hire a wedding or event planner to help you. 
This person will know the best caterers, florists, venues, etc., so you have a stress-free wedding. They can also do much of the heavy lifting for you. 
#2: Hire a Travel Agent
This is especially helpful for your stress-free destination wedding because a travel agent can help you negotiate lodging prices as well as airfare. 
A travel agent can help you find the best packages for the size of your wedding party and the estimated number of guests you'll have. 
A great travel agent will also help all your guests book their reservations and even communicate with them before and during the reservation process.
#3: Plan Your Guest List
When planning your stress-free destination wedding, the last thing you want to worry about is who and who isn't coming. 
If your wedding is far from home, you can expect 30-40% of your invited guests to attend. So, carefully look over your list to get a good idea of what type of venue to look for when planning your wedding and reception. 
You'll need to know this, so you book an appropriate venue. 
In addition, it's a good idea to plan a destination that's easy for most of your guests to get to if you really want them to attend. 
#4: Send a Save the Date Card
When it comes to reducing stress, you want to let your guests know about your destination wedding well in advance of the big day. 
By doing this, you give your guests plenty of time to make arrangements, so you have your closest friends and family with you on your special day. 
Consider giving them up to 10-12 months advance notice. If you know any of the travel arrangement information, you can also include it there.
As an extra tip, you want to also book your venue for both the wedding and reception about a year in advance as well, especially if you've picked a popular wedding spot. 
Give your guests a teaser of an action plan so they know what to expect and get excited about your special occasion. 
#5: Make Your Travel Plans
Arrive at your wedding destination at least three days before your wedding date. You can arrive on your own, with your immediate family, or members of your bridal party. 
It's going to be easier for you to take care of last-minute arrangements if you have a little bit of help, though.
You can take this time to meet with your wedding planners and walk through all the details. 
Final Thoughts
Now that you have our tips for reducing stress, you are ready to plan your stress-free destination wedding. 
Grab your planning notebook, hire the right people, and stay organized. This helps ensure you enjoy your big day as much as your guests!