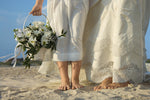 Over the years, it's become an unwritten tradition that the bride and groom give gifts to the bridal party. This means not only the bridesmaids and groomsmen but also the ring bearer and the flower girl. 
Your young flower girl is so excited to be a party of your wedding and getting a gift from you just makes it that more special. 
To help you decide what to present to the flower girl, we've put together a list of five incredible flower girl gift ideas. 
#1: Jewelry Box
Give your flower girl a jewelry box as a keepsake. It doesn't have to be big. 
A fun flower girl gift idea is to engrave her name on the top or the front of the box. 
You can also take it a step further and give her a necklace, earrings, or a ring inside the box. Just be sure she has pierced ears before giving earrings.
 #2: Charm Bracelet
Another flower girl gift idea is the charm bracelet.
Your flower girl will especially love the bracelet if you add a few charms. This is where you can add a couple of charms, so she'll remember the wedding. For example, if you're having a beach wedding, add a dolphin charm and a flip flop charm. 
You can also personalize it and add her initials to the bracelet. 
#3: Personalized Water Bottle
You can also give your flower girl a water bottle with her name on it. 
Do get a nice water bottle and choose one in your flower girl's favorite colors. 
This bottle will be helpful on your wedding day, especially if your wedding is outdoors.
#4: Personalized Makeup Bag
A great flower girl gift idea is to give her a small bag with either her name or her initials on it.
You can also then put some lip balm or lipstick in it depending on her age. 
She can use the bag and what's inside on your wedding day. By personalizing it, you make it special for her.
#5: Beach
Soleless Sandals
One of the best parts about a beach wedding is going without shoes. Everyone loves the feel of the sand between their toes, but at a wedding, they also like to feel more dressed up. 
This is where beach sandals come in.  These are crochet, beaded, or macrame barefoot sandals that are perfect beach wedding attire. 
If you're giving beach sandals to your bridesmaids, make sure to get your flower girl a pair to wear as well. She'll love wearing sandals that still let her wiggle her toes in the sand. 
Final Thoughts
Now that you have five incredible flower girl gift ideas, you might be wondering when you should give them to your flower girl. 
You have several options for presenting your gift to your flower girl. First, you could present the gifts at your rehearsal dinner. If you're already giving them to the rest of your wedding party then, it will really make the young girl feel special. 
Your other option is to present the gifts on the day of your wedding. For example, if you're having a bridesmaids' brunch or lunch, you can invite your flower girl and give the gifts then. 
If what you're giving your flower girl is something she's wearing to the wedding, make sure you give the gift in enough time for her to wear them. 
This is a super special time in a young girl's life – getting to watch a bride get married. She'll love anything you get her and remember the occasion for the rest of her life.