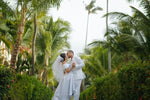 You want the perfect wedding, and you know you want to take it out of town. In this article, we look at how to decide the perfect destination for your big day.
We look at how to choose your venue, so it's a spot you remember forever. Check out these tips. 
What's Your Vision?
Where do you see your wedding destination? Your first step is to make a list of all the possibilities. 
Grab your future spouse and start brainstorming. Here are some things to consider:
Is your wedding indoors or outside?

Do you see cozy fires and snowy mountains?

How about a touristy beach vacation spot?

Maybe it's a secluded island getaway?

Perhaps it's a vintage-flavored vineyard?

Is your wedding a lovely wedding on a terrace surrounded by flowers?

Is it in-country, or will you be venturing outside your home country?
Once you've answered some of these questions, you can narrow down your perfect destination wedding. 
What's Your Style?
For this question, you need to consider not only your style but the style of your future spouse. 
For example, do you like large crowds, or are you more comfortable in smaller groups? 
Are you a couple that likes adventure? How about surfing? Camping? Hiking? Sailing? Skiing? 
Or are you a couple that likes more low key adventures like visiting museums or bookstores? 
Once you've pinned down your joint style, you can narrow down your perfect destination wedding spot. 
What's Your Guest Count?
Another thing to decide when looking at your perfect destination wedding is how many people you'll have at your wedding. 
When looking at venues, you'll be well prepared when you know how many people you need to make room for. 
If you're having a large wedding, you may need more space and more vendors, so you need to look at a destination that can accommodate you. 
On the other hand, if your wedding is smaller and more intimate, you want to look at a destination that fits that theme. You probably aren't looking for a tourist spot. 
What is Your Budget?
How much money you can spend is your next consideration for your perfect destination wedding. 
Once you have picked the perfect dream spot, you want to consider whether or not you can afford it. 
If the answer is yes, that's great. If not, you want to have a strong second choice. 
Traveling to a destination wedding won't break the budget if you choose a spot you can afford. If your dream spot seems out of reach, consider another time of the year. You may find that some months are less expensive than others. 
What Does Travel Time Look Like?
The next thing to look at when considering your perfect destination wedding spot is the travel time and distance. 
First, will you be able to get enough time off work, and will you be able to easily get to your destination? 
Second, will your guests be able to get there as well? 
Consider as well how many planes, boats, trains, or cars people will have to use to get to your wedding. Is it going to be too difficult for people to get there? 
On the other hand, if you're having a small wedding, you won't have to worry about as many people getting to your spot.
You also want to consider how much time people will have to travel and what time will be left for them to spend in your beautiful wedding spot. 
To Conclude
You and your future spouse are a team in the planning process. 
Consider your schedules, travel time, budget, and preferences. Do your research when deciding the perfect destination wedding for your big day, and you'll find everything falls into place.