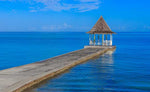 So, you want a beach wedding, but you don't want just any wedding venue. You want a ceremony and reception off the beaten path that is unique, memorable, and beautiful. 
In this article, we look at three places off the beaten path for your nautical wedding venue. 
#1: Get Married Underwater
When it comes to off the beaten path wedding venues, you can't get much more original than doing your ceremony underwater right in the ocean. 
First, you want to pick your spot. If you are an underwater diver, you probably have a favorite dive spot. Then, check around and see if anyone is willing to help you with your unique wedding. 
You'll find there are officiants who are scuba certified and event planners in your chosen spot who can help. In addition, dive shops can usually help you with your wedding. 
Consider places like Belize, the Florida Keys, Maui, Cozumel, Cabo, and others. Search for "underwater wedding package" to learn more about how and where to have your underwater wedding. 
#2: Get Married at a Private Island
Nothing says off the beaten path quite like your very own private wedding venue. 
Imagine your own private retreat for friends and family. Of course, you won't run into anyone else on your private beach. You'll find private islands for rent all over the world. Just a few of these breathtakingly beautiful places include the Maldives, the British Virgin Islands, Seychelles in Africa, Fiji, Florida, and areas throughout the Caribbean.
When you have your nautical wedding venue on a private island, you can also choose the level of service you want. This way you can set your budget accordingly. 
The sand is unspoiled by others, and your wedding party is the first to walk on the sand and step foot into the crystal blue waters. What could be better? 
#3: Get Married on a Boat
Instead of getting married on the beach, you can take your nautical wedding offshore. 
You'll find several good reasons to take your wedding off the beaten path and onto a boat. 
First, you have one venue spot for your entire wedding event, from the ceremony to the reception. Then, once everyone is on board the boat, you have a captive audience. People don't have to drive anywhere, it's incredibly scenic, and you also don't have to worry about people drinking and driving. 
A boat wedding is generally affordable because you can get packages depending on your needs. You will find several all-inclusive package options for your wedding party. 
Getting married on a boat provides you with a scenic and beautiful view. Anchored off the coast of your chosen destination, your guests can take in the lovely panorama. 
To Conclude
You're an adventurer, and you want a wedding venue both you and your guests will remember. You also want a spot that is off the beaten path, unique and in an area with breathtaking scenery. This is where your nautical wedding venue comes in. 
When you're looking for a nautical wedding venue for your off the beaten path wedding ceremony and reception, you've got three great choices. 
Whether you choose to get married on a boat, on a private island, or underwater, you are guaranteed a beautiful wedding.
You can enjoy the beach vibe with all of them, and you are right on (or in!) the ocean with any of these three choices.