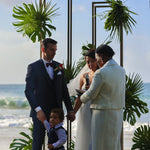 Your dream destination wedding is almost here. The bride has chosen her dress for your big wedding day. As the groom, you may be struggling to decide what you're going to wear for your beach wedding.
While you have many choices, you do want to consider what the bride is wearing, your fashion goals, and your comfort on the beach during the wedding and reception. Let's look at how to choose the perfect tux for a beach wedding.
Talk to Your Bride
The first thing you want to do is consult the bride. She may have a definite idea about whether you should wear a traditional black bow tie and keep to a formal look, or if you can come up with your own unique style.
For example, if your bride wants a traditional white wedding with a white gown, you're going to want to head the classic black tux route. Yet, she might want a more modern style, so you can look for a linen suit that may be more comfortable under the hot sun.
If your wedding theme is more tropical, you can even opt for brighter colors and skip the formal wear!
Think About the Weather
Another important thing to consider when choosing the perfect tux is the weather and the location.
For example, is your wedding on a hot beach, or is it on a cooler beach?
If it's 80 degrees-plus, you want breathable fabric and a light color to reflect the sun. Linen is often the perfect answer here because it's much cooler. You can even pick a suit in the colors of your wedding, as linen suits come in a myriad of colors to go with your wedding theme. You can find linen in dark colors like navy and black and lighter colors like tan and light blue.
On the flip side, if it's a cooler beach in the 60–70-degree range, you can opt for a black suit instead of a tux, along with a white shirt, black tie, and black shoes.
Consider Your Comfort
Finally, you want to think about your comfort level. The last thing you want is to feel uncomfortable on the most memorable day of your life.
Remember that you are walking in the sand, so think about the right footwear. Plan your clothing to match the wedding and the outdoor temperature.
For your outdoor wedding at the beach, let your personal style shine. If you'd prefer a custom suit, you can definitely go that route. Or, if you'd rather wear a casual shirt and pants, and it works for your bride, that's also an option for your perfect look.
The
Perfect Tux
for Your Beach Wedding
The wedding attire you choose helps set the tone for the entire wedding. You have many different styles and colors to choose from.
Your goal is to work with your bride and think about your style, your comfort, and the weather. A perfect fit is also always key, so working with a bridal store or professional tailor is a good idea.
Finally, make the best choice for yourself and your bride and one that works with the overall theme and ambiance of your beach wedding.