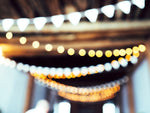 When it comes to planning your beach wedding reception, you can get as creative as you'd like. The most important thing is to be prepared. As you plan the wedding of your dreams, check out these five tips for great beach wedding receptions. 
#1: Enlist the Help of a
Wedding Planner
The best thing you can do when heading to a tropical destination for your outdoor wedding is to enlist the help of a wedding planner.
Since you're traveling away from home, a wedding planner will be a big help with the planning process, especially when finding venues and hiring vendors. 
Your wedding planner knows exactly where to go to find the best people up to the task of handling your beach wedding reception. 
#2: Create a Budget
Another important task is to set a budget for your beach destination wedding. Once you've hired a wedding planner, this person can help you set a budget for each part of your wedding reception. You may have the "big number," but your wedding planner can help you separate it all out by line item. 
It's important to stay within your budget as you plan your wedding and your reception. And remember, it doesn't usually cost much (if anything) to have a reception on the beach as far as rentals. However, it does cost to bring everything to your beach wedding location. 
#3: Choose Your
Beach Wedding Venue
As you consider your reception venues, you have a couple of things to think about:
Will you have your reception at a

beach venue

?

Or will you opt for a more

traditional wedding reception venue

after your

beach wedding ceremony

? 
Once you've answered these questions, you can find the perfect location for your wedding reception. 
#4: Find the Right
Wedding Vendors
Another tip for your wedding reception is to interview different wedding vendors. Here are some things to take care of: 
Find a photographer.

Hire a videographer.

Have several tastings and decide on a caterer.

Enjoy more tastings as you choose a

wedding cake

vendor.

Decide what kinds of drinks you'll offer depending on your

wedding budget

and

number of guests.

Plan for rentals such as chairs, tables, linens, and table settings. Don't forget the flowers, too. 
As you work through lists of wedding vendors, you want to check their abilities when it comes to outdoor wedding receptions if this is the route you're choosing. For example, does your desired photographer or videographer have experience shooting outdoor scenes? 
In addition, does your chosen catering company know how to cater off-site and, on a beach, if that is where you're holding your reception? 
#5: Arrange for a
Professional Sound System
This is a vital wedding vendor. First, you want to decide if you are having live music or a DJ. Next, you want to find a vendor to set up and manage your professional sound system for your reception. 
This should be someone well-versed in handling beach receptions, too. There's a lot of outdoor noise such as the crashing of the ocean waves to consider, and they'll know just how to set up the sound, so it's great for dancing and toasts. 
Final Thoughts on Great
Beach Wedding Receptions
You've got our top tips, but we have one more tip for you. 
Be present at your beach wedding reception. Don't let worry and anxiety keep you from enjoying your new spouse and your friends and family. Relax and enjoy the evening. 
Let others worry about the food, drinks, and dancing. Take it all in so you can remember your dream wedding and reception forever.