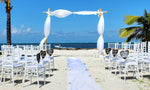 Post wedding cleanup is oftentimes an afterthought, but it really should be part of your overall wedding planning. You will feel much less stressed if you plan for it ahead of time.
Let's look at what happens after the party. Here are five tips for cleanup after your beach wedding.
#1: Don't Rely on Friends and Family
After the wedding and reception, your bridal party, wedding guests, and family may be just as tired as you. Your guests have been eating, drinking, dancing, and celebrating with you, so often the last thing they want to do late at night is clean up.
What's more, they also don't want to get dirty in their wedding attire. Your best bet is to hire a strike crew and a cleaning crew to come in and make everything right.
They should have a list of everything they need to, so you make sure it's done correctly and none of your décor gets lost.
#2: Talk to Your
Event Planner
Most successful beach weddings have an event planner at the head. Your wedding planner is your sounding block, expert, planner, and confidant for your destination wedding.
Make sure you go over your cleanup plans for your beach ceremony and reception venue. Your event planner should know all the rules for cleanup on the beach as well as where you hold your wedding reception, whether it's on the beach or somewhere else.
Your wedding planner will know what the venue requires and expects of outdoor weddings. Just make sure you have very specific checklists.
#2: Decide What to Do with Your Flowers
If you have flowers and centerpieces at your wedding, plan for what to do with them. Make a list of who should get which flowers. For example:
Assign someone to take your bouquet home for you.

Let your bridal party take their bouquets home.

Assign someone to hand out all your centerpieces/flowers at the end of the reception to your designated recipients.
#3: Handle Leftover Food
This is best handled by your wedding vendor/caterer. If there is leftover food (and often there isn't), decide if you want the leftovers taken somewhere, or if you want your caterer to donate it to a food shelter.
In addition, talk to the caterer and make sure they are taking care of all their cleanup and trash removal.
#4: Attend to Your Ready Rooms
Don't forget to have someone clean up this area, too, for both the bridal suite and groom's quarters.
#5: Delegate Transportation
Anything that needs to go back to someone's home, or your hotel needs to be coordinated, including personal belongings.
Have your wedding planner take care of this. They are the ideal person to delegate the transportation of things left at the wedding venue.
Final Thoughts on Cleanup After Your
Beach Wedding Ceremony
Delegation is key as cleanup will be the last thing on your mind at the end of your outdoor ceremony.
Even if you're on a tight budget, try and find a way to work cleanup in. Paying someone to handle the cleanup for you lets you enjoy the day/evening! You'll rest so much easier knowing that you don't have to worry about it.