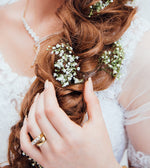 Your wedding is almost here, you've chosen your dress, and now it's time to think about your hair. We've got the perfect solution, if you're wondering how you should wear your hair for a beach wedding. 
First, it's worth considering where you are standing on the beach. If you are staging your wedding as many people do, with the guests facing the ocean as a background, you want to note that the breeze coming off the ocean may be pretty strong. 
So, if you are standing with your back or your side to the ocean, the wind is going to blow on you. 
Because of this, many brides find it's best to wear their hair up or half up. So, we feature some of those hairstyles for breezy beach weddings here. 
A Low Ponytail
This is a super chic way to wear your hair, and it helps accommodate your wedding veil, too. 
You can either pull your hair back in a loose or a tight ponytail and secure it at the nape of your neck. Another option is to pull the ponytail to the side and weave flowers through it. 
The low ponytail is also an elegant way to wear your hair. If you like a little bling or some flowers, go ahead and add them, but it's perfectly acceptable to just add your veil. 
A Big Bun
Think of a bun like a dancer's bun. This is a fairly large bun set up high on the back of your head. 
This can be a classic look, or it can be more casual, such as a loose bun, if you pull out some tendrils on the side of your face. 
A swept-back bun keeps the hair out of your face as the wind blows and is a great way to highlight a dress with a striking back. 
Crown Braid
You have so many options when it comes to braids. If this is what you're thinking, ask your hairstylist to look at some photos of their favorite beach wedding hairstyles and discuss some unique looks. 
You might like a crown braid where you have a braid that wraps around the top of your head like a crown. You can pull all of your hair into the braid or leave some of it half down. 
This hairstyle makes adding hair accessories a must. 
Waterfall Braid
This is a great bridal hairstyle. With the waterfall braid, you are using a half-French braid. You French braid half of your hair, and you leave the rest of your hair cascading down around your shoulders like a waterfall. 
It's not a hard braid to do, and it will work particularly well for your breezy beach wedding. 
Flower Crown
This romantic, easy hairstyle is so easy to do, and it helps hold your hair back off your face, especially when the wind blows off the ocean. 
Gather your hair half-back, and then add a crown of flowers around your head. This hairstyle works for both long hair and short, and the flowers can pick up the style of your dress. 
Final Thoughts
Beach brides really have a chance to shine at their wedding ceremony. Consider a soft, natural look for your beach wedding that is either pulled all the way back or half back. 
The last thing you want to mess with is your hair blowing in your face. Don't forget to consider the humidity at your location, too. 
Naturally swept-up looks are lovely when planning your favorite beach wedding hairstyle. With these ideas, you're ready to start planning your unique look!