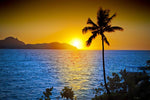 You are so excited about your dream beach wedding. Your destination is chosen, you've picked out your dress, gotten the tux, and selected the rest of your wedding clothing. 
The last thing you want is to add a sunburn to your "wedding attire" or to get a sunburn on your beach wedding day.
In this article, we look at four tips and tricks to avoid sunburns on your wedding day. 
#1: Wear Sunscreen
You want to choose a broad spectrum sunscreen that prevents a sunburn as well as sun damage and skin cancer. 
While all sunscreens protect you from UVA rays, only broad spectrum sunscreens protect you from UVB rays.
In addition, look for higher SPF factors. You want at least SPF 30 to filter out UVB rays (97% percent of them).­ You can also look for sunscreen with titanium dioxide and zinc as they are total blocks. 
Finally, if you are in the water or sweating, you want to look for water resistant sunscreen. 
Do be aware, though, that while many sunscreens say they are water resistant for 80 minutes, this isn't always true, depending on your location to the sun. 
A good rule of thumb is to reapply sunscreen about every 30-40 minutes. When applying, be sure to put it everywhere. You want to make sure all exposed skin is covered, or you might end up with awkward lines in your photos. 
#2: Wear a Hat
Choose a wide brimmed hat that offers your face shade from the sun. 
You can match your hat to your bridal attire, too. 
Don't forget the sunglasses to protect your eyes! 
#3: Wear Protective Clothing
One of the best ways to avoid sunburns during your beach wedding festivities is to wear long-sleeve clothing.
This may be hard for your beach wedding dress in a hot climate, so you could add a light weight shawl to add some extra protection. 
#4: Add Some Shade
You can get married under a tent or some other structure to protect you and your wedding party from the sun. 
Get creative and make it work with your scenery and your wedding ambiance. 
How to Treat a
Sunburn
If you do get a sunburn, we have some tips for treating it, so you aren't absolutely miserable. 
First, you want to be prepared with some aloe vera. This will help cool your skin and may help reduce the redness. 
Next, you want to stay hydrated as getting a sunburn takes a lot out of you. 
If you do get a sunburn, you can try to camouflage it with makeup. 
Consider a green or yellow corrector. This will depend on your skin tone, and it can help reduce the redness of your skin. Then apply foundation on top of it. 
You also want to use an airbrush to apply your makeup so you don't hurt your skin. 
Final Thoughts
While it may seem easy to avoid a sunburn, it's not always so, especially when your wedding is in a beach location. 
The key to avoiding a sunburn is to use all four of the tips and tricks discussed here in combination. If you do that, not only will you avoid a sunburn, but you'll protect your skin from premature aging and sunburn. 
By avoiding a sunburn, you'll ensure great beach wedding photos so you can look back on your special day for years to come.