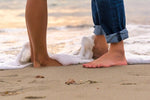 Are you dreaming up ideas for a magical and beautiful destination wedding? If you need a little inspiration for the best places to get away for your big day, look no further than our top 5 list for destination weddings…
1. Destination Wedding: Costa Rica
With an unofficial slogan of pura vida, this Central American country is all about cutting away what is unnecessary and focusing on the essentials of a pure and beautiful way of living. Why not embrace the pure life and say your "I do"s barefoot on a beach in Costa Rica? With a simple ceremony in a beautiful location, the focus can be on the people with whom you gather to share this special commitment with your partner.
Tamarindo on the Pacific side offers a tranquil destination for your "I do"s. On the other coast, Puerto Viejo could be the perfect destination wedding from which to launch a Caribbean cruise or South American tour for your honeymoon.
2. Destination Wedding: Mexico
A classic choice, the idea of a beach in Mexico is essentially synonymous with the term "destination wedding."
Whether you opt for an all-inclusive resort in Cabo San Lucas or Tulum or find your own little paradise in a small, off the beaten path town like Cabo Pulmo, Mexico certainly caters to the wedding and honeymoon crowd and you will find a plethora of options that can make your dreams come true on your wedding day.
3. Destination Wedding: Florida
No passport is needed for you or your guests to escape to a beautiful beach in Florida for your destination wedding! (And walking down the aisle on an isle certainly has a nice ring to it.) 
You might consider an Island like Siesta Key, which is known for having the softest sand in the United States, or Captiva Island for an intimate, relaxed atmosphere that offers an escape from the hustle and bustle of the world. 
On the other coast, Daytona or Miami Beach can offer an exciting nightlife to complement your joyful celebration and expansive beaches with room for everyone on your guest list.
4. Destination Wedding: Colorado
Thinking outside of the beach for a destination wedding, you might also consider a destination like no other: the Rocky Mountains. Winter, summer, fall, or spring, the views (and the pictures) will be breathtaking with a mountain backdrop and fresh air all around.
You might saunter down the aisle barefoot in the grass or in cowboy boots in a mountain town such as Estes Park, Vail, or Steamboat Springs. 
5. Destination Wedding: Europe 
With small, intimate ceremonies coming into fashion, a getaway to Europe is feasible for a wedding party with your family and closest friends. As a bonus, it offers a great launch point for a tour of the continent for your honeymoon.
Whether you start or end the trip in Paris, France, don't forget to consider romantic Venice, Italy; breathtaking Santorini, Greece; or lively Amsterdam in the Netherlands as hosts for your dream destination wedding.
Destination: Happiness
Wherever you decide to say your vows, planning the big day of your dreams should center around setting the tone for your marriage. Laidback or lavish, your dream destination wedding can be anything you imagine.