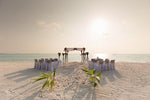 Many brides and grooms are heading to the beach for their destination wedding. This leads to a slightly different bridal look and feel for the outdoor wedding. One of the biggest things that is different is what to wear on your feet. The beach bride will, after all, be walking in the sand.
To help you find the perfect bridal sandals, let's look at three elegant sandal choices for your beach wedding footwear.
#1: Beach Wedding Barefoot Sandals
Free your feet for your beach wedding!
The first sandal choice we recommend is the beach wedding barefoot sandal. Just what does this mean?
This sandal is crocheted or beaded, and it has no bottom or sole. Hence the "barefoot" part of the sandal. It looks like you have a pair of sandals on, but these are super comfortable sandals and perfect for walking in the sand or by the ocean.
As you stand up during your seaside ceremony, your feet won't hurt, they won't swell in uncomfortable shoes, and you'll look incredibly chic.
You will love how they complement your beach wedding dress, and you can find sandals with specific embellishments to fit the mood of your wedding and complete your beach wedding look.
#2: Traditional Sandals for Your
Beach Wedding
You can always opt for a wedge heel or a flat sandal.
Flats are a good idea because you won't get a spiky heel caught in the sand. Do look for a flat sole, lightweight materials, and good straps.
Sequins and beading can make your flats more festive.
If you choose a wedge sandal, look for raffia or lightweight materials. A heavy leather sandal will not only get ruined, but it won't be too comfortable.
You can also choose an open-toed slide, flip flops with style, and even espadrilles. Just make sure they fit the vibe of your beach wedding.
#3: Barefoot Sandals as Wedding Favors
Don't forget your beach wedding guests. They want to be comfortable, too. If you're giving party favors to the people who come to your wedding, sandals are a great idea for your guests as a wedding favor.
This way, when you explain the dress code to your guests, you can tell the ladies you have their shoes covered!
So, say thank you with beach wedding favors that your guests will love. They can even wear them after the wedding as they're walking on the beach or even by the pool. Don't forget they make great bridal shower gifts, too.
The Final Touch on Your Wedding Ensemble
With the right beach wedding footwear, your wedding outfit is perfect. You can even pick the perfect pair for each event: one for the bridal shower, one for the rehearsal dinner, one for the wedding, and another one for the honeymoon.
Don't forget to paint your toes when wearing elegant sandals and barefoot footwear. Your feet are the focus, so pick a color that goes with your sandals and your wedding! 
Paying attention to your footwear helps complete your look in an elegant way, while keeping you cool and comfortable at your beach wedding.